The site of the former Natzweiler-Struthof camp is a historical place of remembrance, and visitors are expected to show respect for its victims.
Visitors can tour the site at their own pace and discretion. However, it is preferable to start with the permanent exhibition, in order to get a general sense of the resistance movement and deportation in Europe, before addressing the specific case of the Natzweiler-Struthof concentration camp.
For a self-guided tour, the following estimated times are required:
- Historical site only (former concentration camp): approximately 1 hour.
- Historical site and camp museum: between 1.5 and 2 hours.
- Historical site, camp museum, permanent exhibition "Against Barbarism: Engaging, Resisting, Fighting" and temporary exhibition: between 2.5 and 3 hours.
- Gas chamber, located 1.5 km downhill from the camp: 20 minutes.
Furthermore, depending on the number of visitors on the site, the staff may request that you begin either by visiting the museum or the buildings at the base of the camp.
USEFUL INFORMATION
Partial access for people with reduced mobility.
Appropriate attire required.
Children under 10 must be accompanied and placed under the responsibility of an adult.
The management reserves the right to deny access to anyone who is disrespectful of the site and the memory of the victims.
No pets allowed.
In winter, certain parts of the historical site may be closed to the public.
For insurance and liability reasons, it is not possible to leave personal belongings, such as backpacks or motorbike helmets, at the reception.
VISITOR INFORMATION SHEET
To obtain information before your visit, download the free guide here (pdf - 6.76 Mi).
FOOD SERVICE AREAS
A small cafeteria on the first floor of the European Centre of Deported Resistance Members, with vending machines for snacks and hot beverages, is available for visitors to use on a space-available basis.
PRICES:
Full price: €8
Reduced rate: €4
Youths between 10 and 18 years old (not part of a school trip or group), students, unemployed visitors, holders of the "Large Family" card, holders of the "Cezam" card, holders of a professional card (teachers, press, tourism professionals and tour guides).
Free admission:
School groups (visits, workshops), children under 10 years old (not part of a school trip), members and staff of the National Office for Veterans and Victims of War (ONAC-VG), members of the military, holders of the tourism professional card of the Bruche Valley Tourist Information Centre, disability cardholders, persons accompanying disability cardholders, drivers of public transport accompanying groups, persons accompanying school groups (1 per 10 students), persons accompanying non-school groups (1 per group).
Pass Culture
Beginning in January 2022, the "Pass Culture" (culture pass) will be available to all students studying in France, in third form, fourth form, fifth form, lower sixth form and upper sixth form and all students enrolled in a certificate of vocational aptitude programme (CAP), in public schools and private schools under contract with the French Ministry of Education. After reserving their tickets with the Pass Culture app, young visitors show a code at the ticket office. This validates the ticket and deducts the admission total from the Pass Culture.
Anyone requesting a discount or free admission must provide proof of their status, except for the age of minors.
Since 1 July 2019, if you keep your ticket to the European Centre of Deported Resistance Members - Former Concentration Camp of Natzweiler, you can get a special rate for admission to the Alsace-Moselle Memorial in Schirmeck, located ten km away.
Valid for one year from date of purchase.
The CERD is a site associated with the Pass Alsace.
By showing the Pass Alsace, adults and children get half off the price of admission (or free admission depending on their age).
The Pass'Alsace is sold in the online store.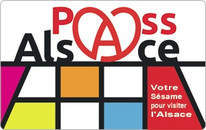 COVID-19 SAFETY MEASURES AND VISITING HOURS
GENERAL RULES
Please take the preventive measures recommended by the government: Stay 1 metre away from others, greet others from a distance, wash your hands regularly, avoid touching your face, cough into your elbow and use a single-use tissue to blow your nose.
OPENING HOURS
Self-guided tours are possible every day (except May 1st, Easter Sunday and December 24th, 25th and 31st), without reservation. The ticket office closes 30 minutes before the historical site.
From 1st February to 15 April : from 9.30 am to 5.30 pm.
From 16 April to 30 September : from 9.00 am to 6.30 pm (the ticket office closes 1 hour before the historical site).
From 1st October to 30 December : from 9.00 am to 5.30 pm.
Annual closure : January.
Opening hours of the gas chamber building :
from 1st February to 15 April : from 9.30 am to 5.00 pm.
From 16 April to 30 September : from 9.30 am to 6.00 pm.
From 1st October to 30 December : from 9.30 am to 5.00 pm.
Annual closure : January.
Audioguides are available in six languages : English, French, German, Italian, Spanish and Dutch.
RESERVATIONS
For individuals and families, no reservation is required to come visit the site. Reservations are required for groups of more than 10 people.
RESTRICTED AREAS
The Kartoffelkeller (potato cellar), which hosts the permanent exhibition in the basement of the European Centre of Deported Resistance Members, is closed temporarily due to its cramped quarters.
Please follow the signage in the form of floor markings and guidance barriers provided to show you the way. An entrance and exit door are indicated for each building. Staff members will give you instructions as needed.
PRICES:
Admission prices are at the usual rates.
Visit booklets are available for free.
CLEANING OF THE PREMISES
The visiting areas are fully cleaned twice a day. On a regular basis, CERD staff members use disinfectant wipes on surfaces likely to be touched by the public. The toilet facilities of the former camp are open to the public and are fully cleaned twice a day.
ACCESS
ADDRESS:
Centre européen du résistant déporté (Struthof) - Route départementale 130 - 67130 NATZWILLER
GPS coordinates: Latitude: 48° 27' 15.822'' / Longitude: 7° 15' 15.89''
TO REACH STRUTHOF FROM STRASBOURG:
Take the A35 towards Colmar
next, follow the signs to Schirmeck, Molsheim
take the exit for Saint-Dié, Schirmeck, Mutzig
cross Schirmeck and continue to Rothau
at the entrance of Rothau follow the signs that indicate "Camp du Struthof" (do not enter the town of Natzwiller)
Struthof is approximately 60 kilometres from Strasbourg; about an hour's drive. The site can be reached by car or coach only.
CAR PARKS:
THERE ARE TWO FREE CAR PARKS AT THE ENTRANCE OF THE EUROPEAN CENTRE OF DEPORTED RESISTANCE MEMBERS: ONE FOR CARS AND ANOTHER FOR COACHES.
Motorhomes and camper vans: during the visit, motorhomes and camper vans may park in the bus parking area.
BRUCHE VALLEY TOURIST INFORMATION CENTRE:
The Bruche Valley Tourist Information Centre can give you recommendations to help you plan your transport and accommodations. Visit our website, available in French, English and German. It also provides valuable information about local weather conditions.
Website: www.valleedelabruche.fr
Office de tourisme de la Vallée de la Bruche
114 Grand Rue
F-67130 SCHIRMECK
Telephone: + 33 (0)3 88 47 18 51
E-mail: tourisme@valleedelabruche.fr
Site : www.valleedelabruche.fr
Office de tourisme de la Vallée de la Bruche
114 Grand Rue
F-67 130 SCHIRMECK
Téléphone : + 33 3 88 47 18 51
Email : tourisme@remove-this.valleedelabruche.fr