Remembrance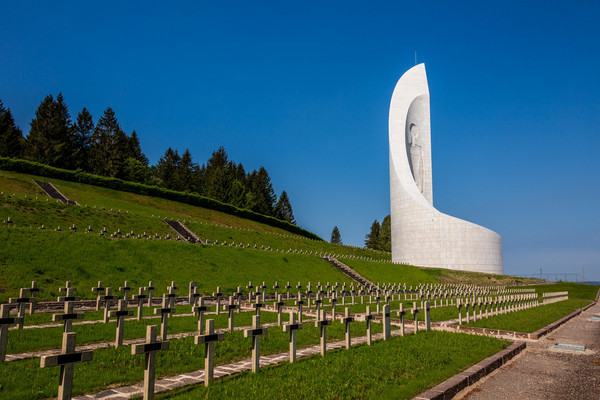 The Memorial to the Heroes and Martyrs of the Deportation
"The sculpted stone must perpetuate, on French soil, the heroism and martyrdom of these soldiers without uniforms, freedom fighters who, through the worst tragedy, saved their honour"
Léon Boutbien, Former prisoner of KL Natzweiler.
As early as 1945, the chief architect of Historical Monuments, Bertrand Monnet, conceived of a plan for a memorial on the site of the former concentration camp of Natzweiler. He made a few sketches of a "Memorial Flame" beginning in the summer of 1952, and then completed the final drawings of the memorial in October 1953. In the 1950s, remembrance of the war focused mainly on the French Resistance. It was thus under pressure from former prisoners that, in October 1953, the French government decided to build a deportation memorial.
The Struthof memorial was designed to be a "mausoleum for the thousands of unknown bodies" reduced to ashes in the crematorium, deprived of a dignified burial site. It was meant to be the symbolic tomb of all those whose body would never be found.
The Memorial was officially inaugurated by General Charles de Gaulle, who was the French president at the time, on 23 July 1960. A beacon of memory standing 40 metres high, visible from Bruche Valley and Donon Mountain, it represents a flame and depicts the emaciated silhouette of a prisoner.
The body of the unknown prisoner, symbolising all the victims of the deportation, was placed in the vault at the base of the Memorial. Inside, a crypt contains 14 urns holding soil or anonymous ashes from different concentration camps.
The National Necropolis