A Bridge to History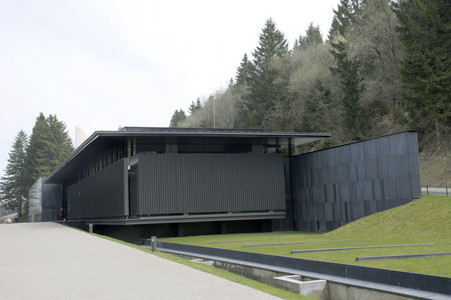 The European Centre of Deported Resistance Members (CERD) was inaugurated on 3 November 2005 by French President Jacques Chirac. That year was also the 60th anniversary of the liberation of the Natzweiler-Struthof camp.
Designed as a place for learning, reflecting and meeting, the CERD provides an introduction to the tour of the nearby camp. In an exhibition space of 2,000 sq. metres featuring touch screens, videos and photos, the history of the Second World War is presented, including the resistance efforts in Europe and the relentless extermination machine of the Nazi concentration camp system. Temporary exhibitions are shown together with the permanent exhibition "Against Barbarism: Engaging, Resisting, Fighting".
Firmly oriented towards young people, the CERD offers students and young visitors educational tools to help them learn about history and understand its implications. The CERD provides well-designed, ready-to-use materials, including educational booklets for teachers and students, in-depth reports and educational workshops to be downloaded or offered on-site at the CERD. A room is set aside where school groups can do targeted activities.
The CERD is located above the "Kartoffelkeller" (potato cellar), a nearly 120-metre-long reinforced-concrete cellar built by prisoners, which has become a symbol of the prisoners' oppression and exhaustion as they endured forced labour and abuse. The Nazis' purpose for this cellar is still not known.
In his architectural design, Pierre-Louis Faloci decided to use simple materials, such as aluminium, wood, rough concrete, black steel and black granite, in order to play with contrasts between light and dark. Light areas give way to darker places, suitable for the solemnity of the place.
THE PERMANENT EXHIBITION: "ENGAGING, RESISTING, FIGHTING"
The permanent exhibition, which is a central feature of the European Centre of Deported Resistance Members, is divided up into three parts.
A film traces the history of the construction of the camp and sets the context for the visit.
On the lower level, the public discovers the "Kartoffelkeller" (potato cellar). This large reinforced-concrete building was built by the prisoners themselves between 1943 and 1944. During the exhibition, which is structured around the cellar, visitors can discover the impressive row of arches, as well as the thickness of the concrete walls.
Fourteen modules grouping together a very large collection of photographs present the rise of fascism and Nazism in Europe, the policies implemented by Hitler, and in parallel the resistance efforts that grew against oppression and began the fight for freedom. The end of the exhibition evokes the construction of Europe and new threats to world peace.